LENDER ACCESS & CREDIT APPLICATION MANAGEMENT
Submit credit applications and receive lender decisions using RouteOne and Dealertrack finance sources directly within DealerCenter.
Instant decisions with Westlake Financial and Western Funding 24/7.
Unlimited eFax credit applications to any lender.
Manage add-ons, fees and back-end points with ease.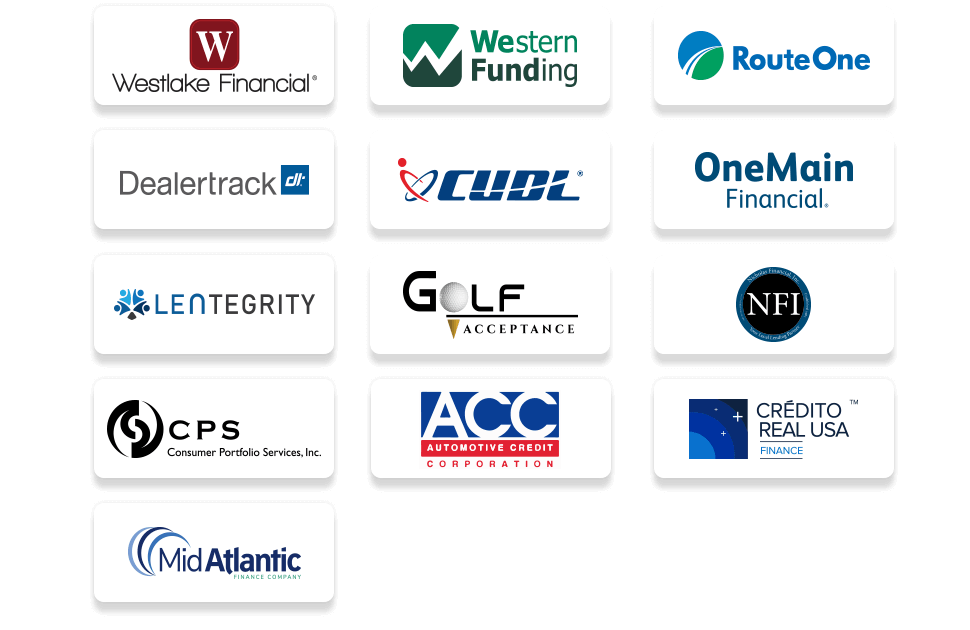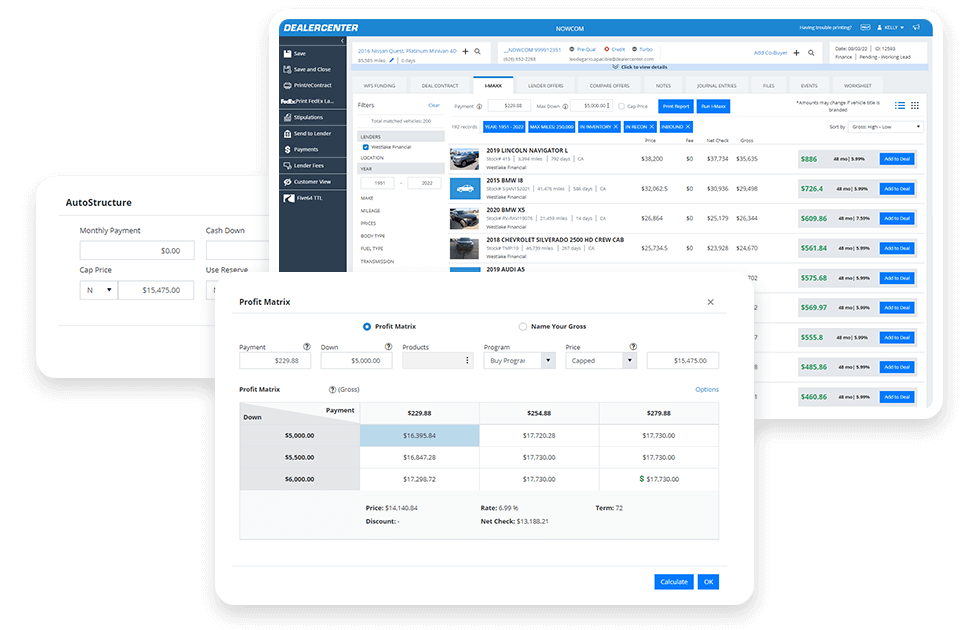 AutoStructure™ technology optimizes deal structure to maximize profits.
iMAXX™ instantly produces Westlake Financial decisions on all active inventory ranked by gross margin.
Profit Matrix produces different deal structures with the profit per deal based on the customer's desired down and monthly payments.
Name Your Gross produces different deal structures to achieve the desired gross on any given deal.
Compare multiple financing & vehicle option for customers without affecting customer's credit.
Present customers with monthly and down payment options in seconds.
Generate digital Credit App requests right from desking.
Save deal options to a customer record 
Print quotes & email them directly to the customer.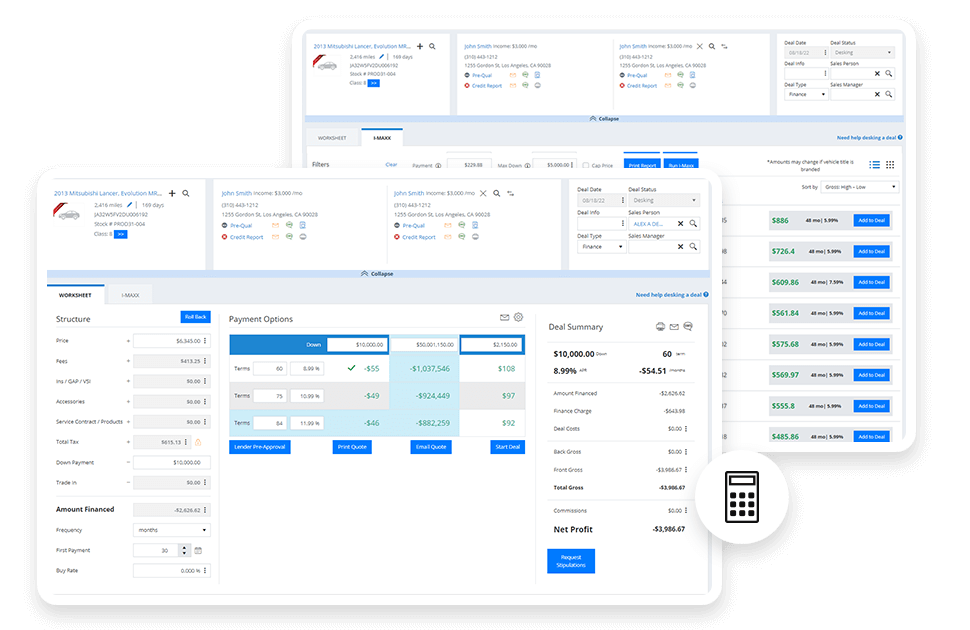 AFTERMARKET AND F&I MANAGEMENT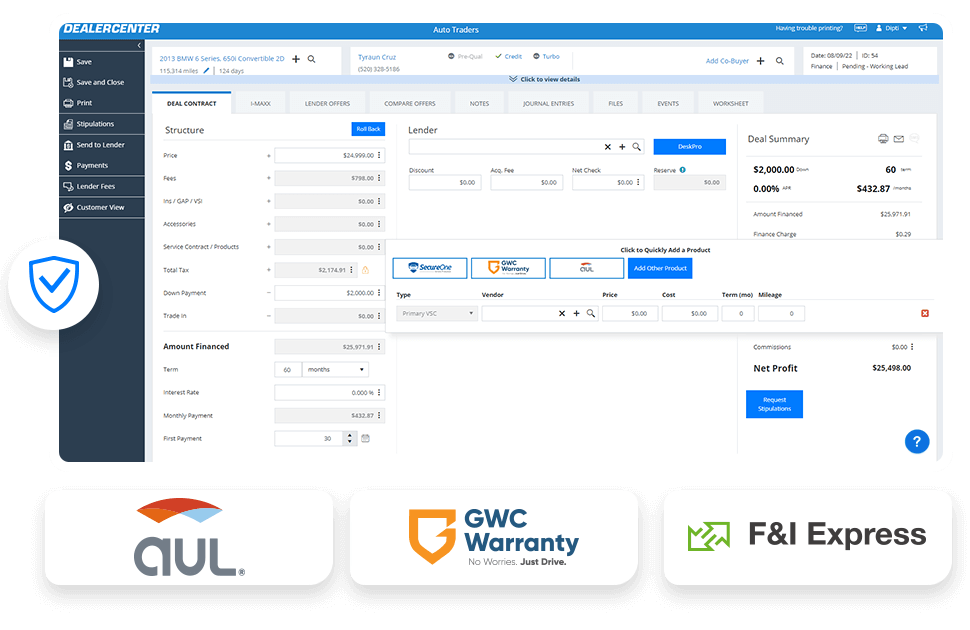 Easily add service contracts from AUL, GWC, or other providers via F&I Express.
Quickly incorporate into the deal structure and payment calculations.
ELECTRONIC LICENSE TITLING & TEMP TAGS
Process electronic titles, request/transfer temp tags, and request metal plates with any of our current partnerships.
AutoDataDirect, Dealertrack RTS, Vitu, VERIFI (New York), and DLRdmv available inside DealerCenter.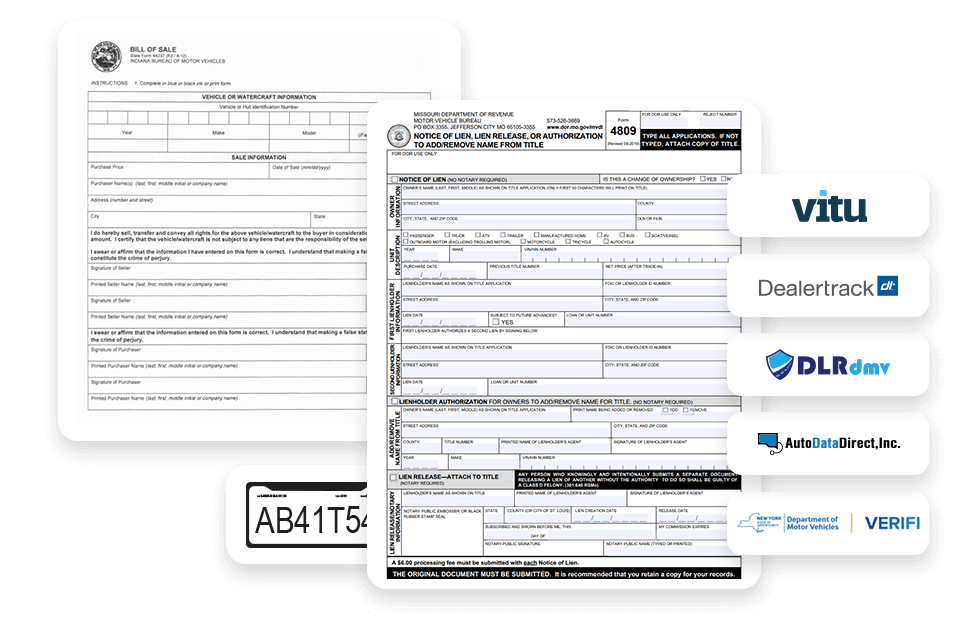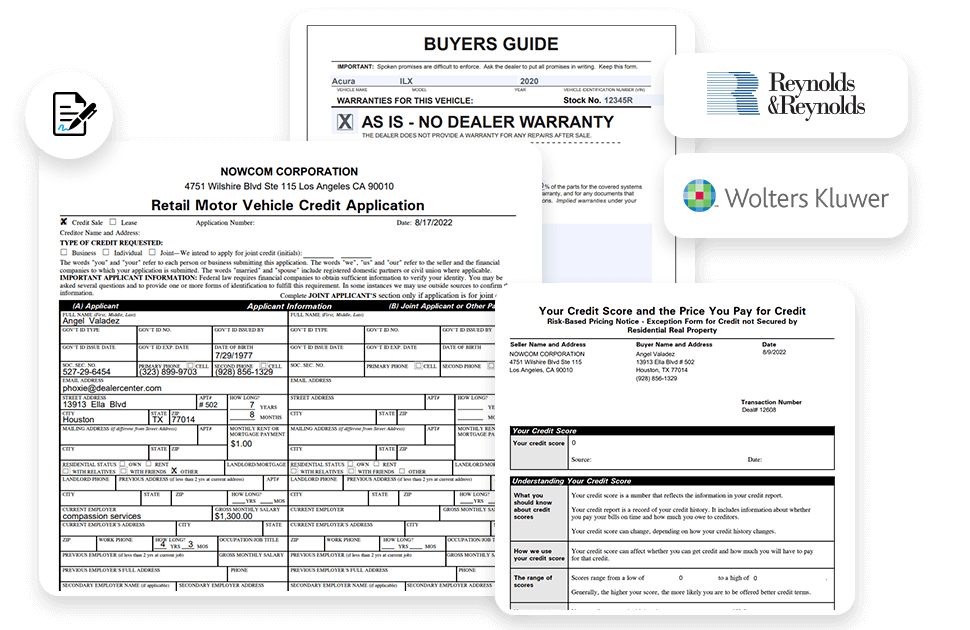 CREDIT BUREAU & COMPLIANCE SERVICES
Experian, Equifax and TransUnion direct connect integrations.
Access credit profiles, FICO scores, OFAC and other bureau services.
Adverse Action Notice Automation, including Risk Based Pricing Notice.
Precise ID with KIQ fraud prevention and compliance solutions.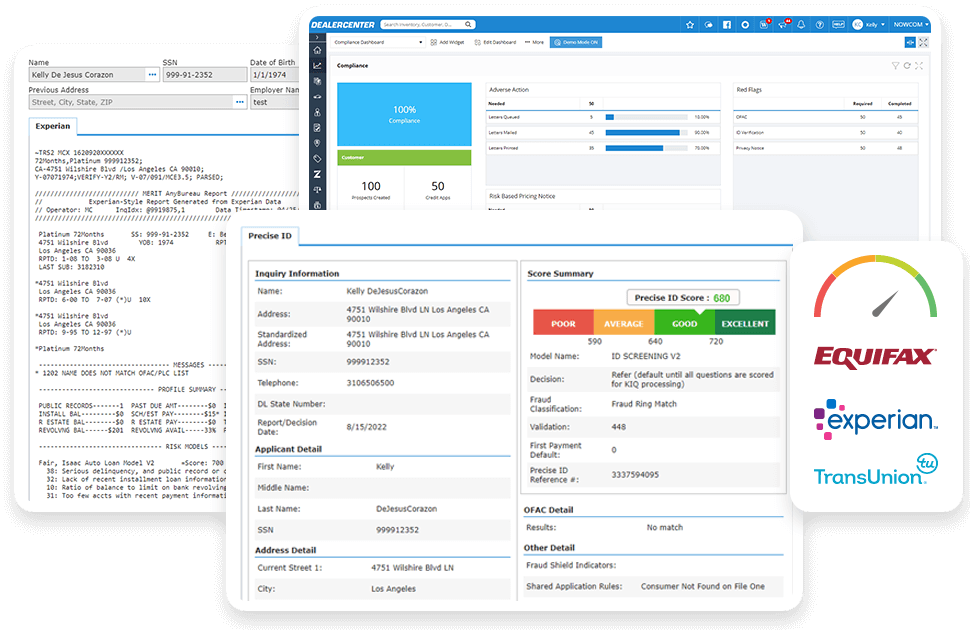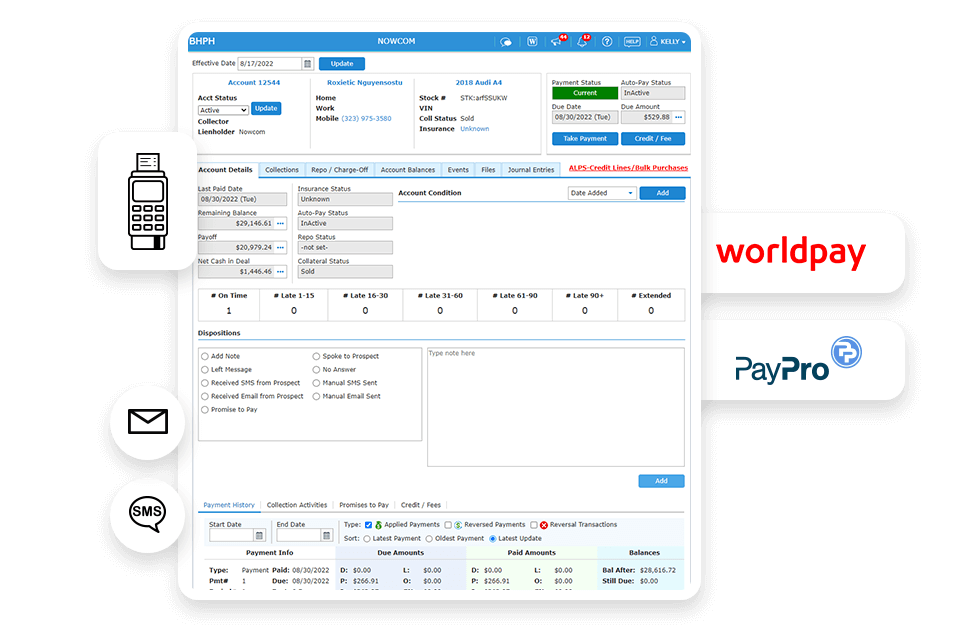 Full service payment processing integrations with Worldpay from FIS and OpenEdge.
Automate recurring payment processing, ideal for Buy Here Pay Here (BHPH) dealers.
Optional text and email payment reminder capabilities.
Compatible with QuickBooks Online edition.
Automatically convert DealerCenter transactions into journal entries.
Free specialist setup, training, and support.
Optional consulting services are available from industry expert SGC CPA's.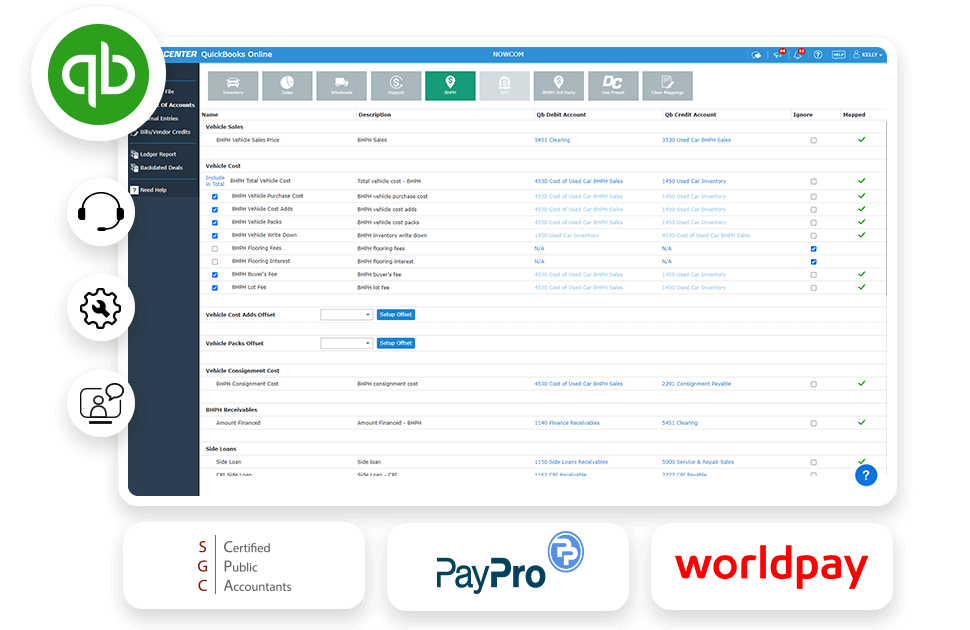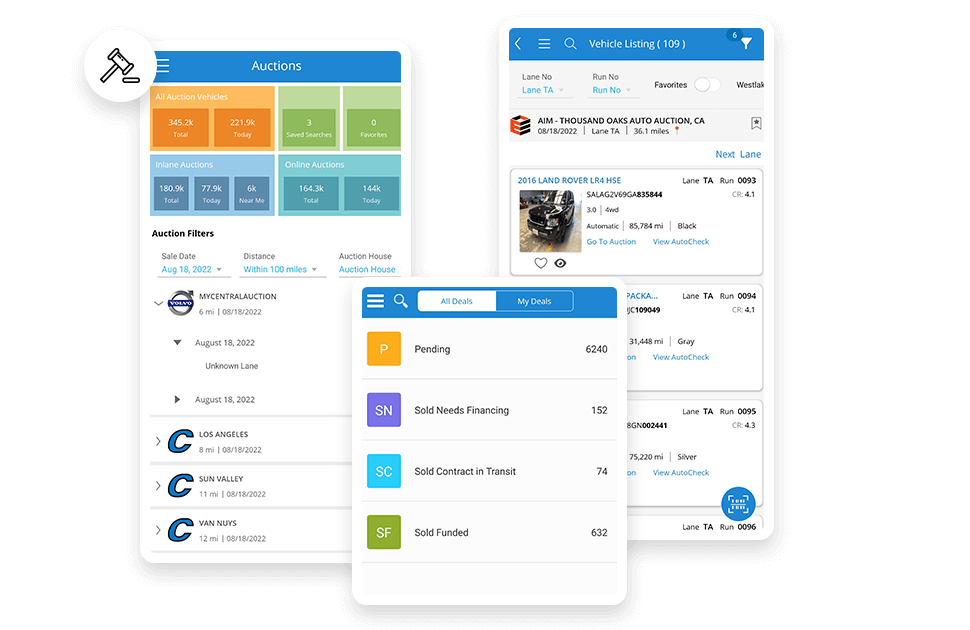 View deal statuses on the go!
Powerful auction tools.
Complete inventory management.
More features and functionality than any other dealer app in the market.