What is a DMS (Dealer Management System)?
'DMS' is a widely used acronym in the auto dealer industry that stands for dealer management system. A DMS is traditionally known as a software platform dealers use for managing their vehicle inventory, deals (cash, finance, wholesale, buy here pay here (BHPH), etc.), customer information, credit reports and printing paperwork. In the past, many dealers found the need to login to separate software systems to truly run their business. On top of a traditional dealer management system platform, a dealer may need to login to another system to submit deals to lenders, another to manage their customer communication (CRM) and yet another to manage their website and online marketing and possibly more. Today, with the advancement in software integrations and partnerships, a DMS can finally achieve its true purpose of helping dealers manage their entire business from a single login platform. Integrations help converge these processes and data into a centralized hub of tools, resulting in better organization, efficiency and ultimately more deals. An example of this could be a dealer receives an internet lead from their website or car listing site which is fed directly into the dealer management system as a new prospect. The system would automatically assign the new lead to a sales person for them to work through the sales process. Pulling a credit report, searching through available inventory, structuring a deal and even printing the final sales contracts are all done within the same system. These new capabilities make all of your business information more accessible, significantly improve business efficiency and reduce data entry points and potential errors.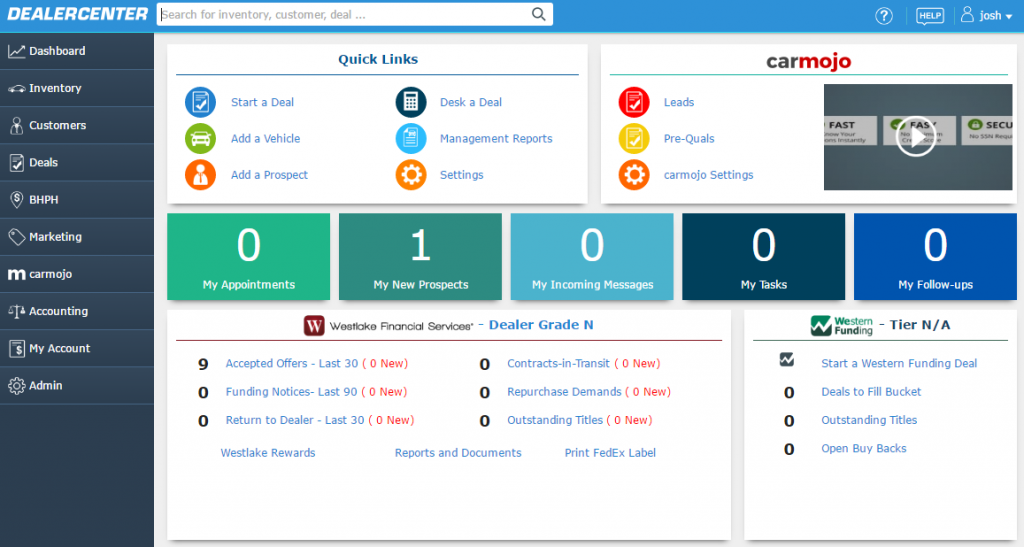 Common Features in Dealer Management Systems
Features and capabilities can vary from system to system, but some of the core features should include inventory and customer management, deal structuring and contracting, buy here pay here (BHPH) management with payment processing and extensive reporting capabilities with customization options. More sophisticated systems will include integrated dealership websites and other online marketing tools and mobile app enabling dealers to use their phone to manage their business on the go. Customer management features commonly allow dealers to track current customers and leads, schedule appointments, and pull credit reports. Inventory management generally allows dealerships to manage the vehicles on the lot and track reconditioning and flooring expenses and payments pull book values from KBB, NADA, or Black Book, and pulling vehicle history reports from AutoCheck and Carfax. Deal management should allow credit applications to be processed and sent to the various lenders they use for financing and automatically populate all forms for contracting purposes. All in all, these are the standard features you should find within a fully packaged dealer management system.
Want to learn more about DealerCenter DMS? Give us a call today at 888-669-2669 or check out our full features on our home page.
September 19, 2016 |